Oxygen supply for medical, hotspital and healthcare applications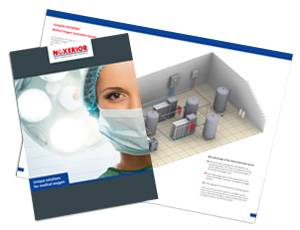 CAN GASoxygen generators are particularly appropriate for:
Central oxygen supply to hospitals

Nursery & retirement homes

Field hospitals

Veterinary clinics


Special Know-How & Services from CAN GAS
The supply of medical oxygen to healthcare facilities by on-site oxygen generation systems has become a safe alternative to the conventional oxygen supply modes by high-pressure cylinders or liquid oxygen storage tanks. We at CAN GAS always put quality and availability of the produced medical oxygen as primary objectives for any healthcare installation. In case of construction projects for new healthcare facilities our broader experience allows us to make an accurate estimation of the future medical oxygen consumption to guarantee a correct dimensioning of your CanGas® PSA medical oxygen system.

We strongly recommend system installations according to ISO 10083:2006 and HTM 2022A for which we can supply you the following additional equipment:
PLC based Central Supervision System with touch screen HMI, including data-logging and automatic switch-over between operating and stand-by unit. Integrated remote control and data transmission to the hospital's central monitoring & control system.

CANBUS medical oxygen purity monitor for real-time control of the O2, H2O (moisture), CO2 and CO concentrations in the produced medical oxygen

Set of all required external valves and instrumentation
Please click on the below link to download more information about the CanGas®
medical oxygen system from CAN GAS.
http://www.can-gas.net/index.php?m=content&c=index&a=show&catid=68&id=17